Colourful collage
Colourful collage workshop with Artist Emma Prill.
Saturday 6th April 10am -3pm
Omokoroa settlers hall

Emma has exhibited both nationally and internationally. Her most exhibition "Colourfield" was an immersive, large scale installation in the Tauranga Art Gallery. Emma teaches various workshops to both adults and children.

Join artist Emma Prill for this popular one day workshop. Explore colour, line, composition, texture and form using vibrant acrylic paints. In this workshop you will be looking at the iconic "vase and flower" subject that has been of inspiration to artists for centuries. Paint your own richly-coloured canvas sheets before cutting them and assembling onto your painted boards to create a stunning contemporary vase-and-flower composition.

Emma will lead you through the processes step by step - guiding and sharing techniques while leaving lots of room for you to bring your own skills and inspiration into your work. Bring a friend? A family member? Or come alone and meet other like minded creatives for a wonderful creative day and take home a beautiful artwork

Cost - $125 includes all quality materials
Ages - Adults (And art loving teens age 15+)
Suitable for complete beginners or those with experience.

Please bring a packed lunch. Tea and coffee supplied.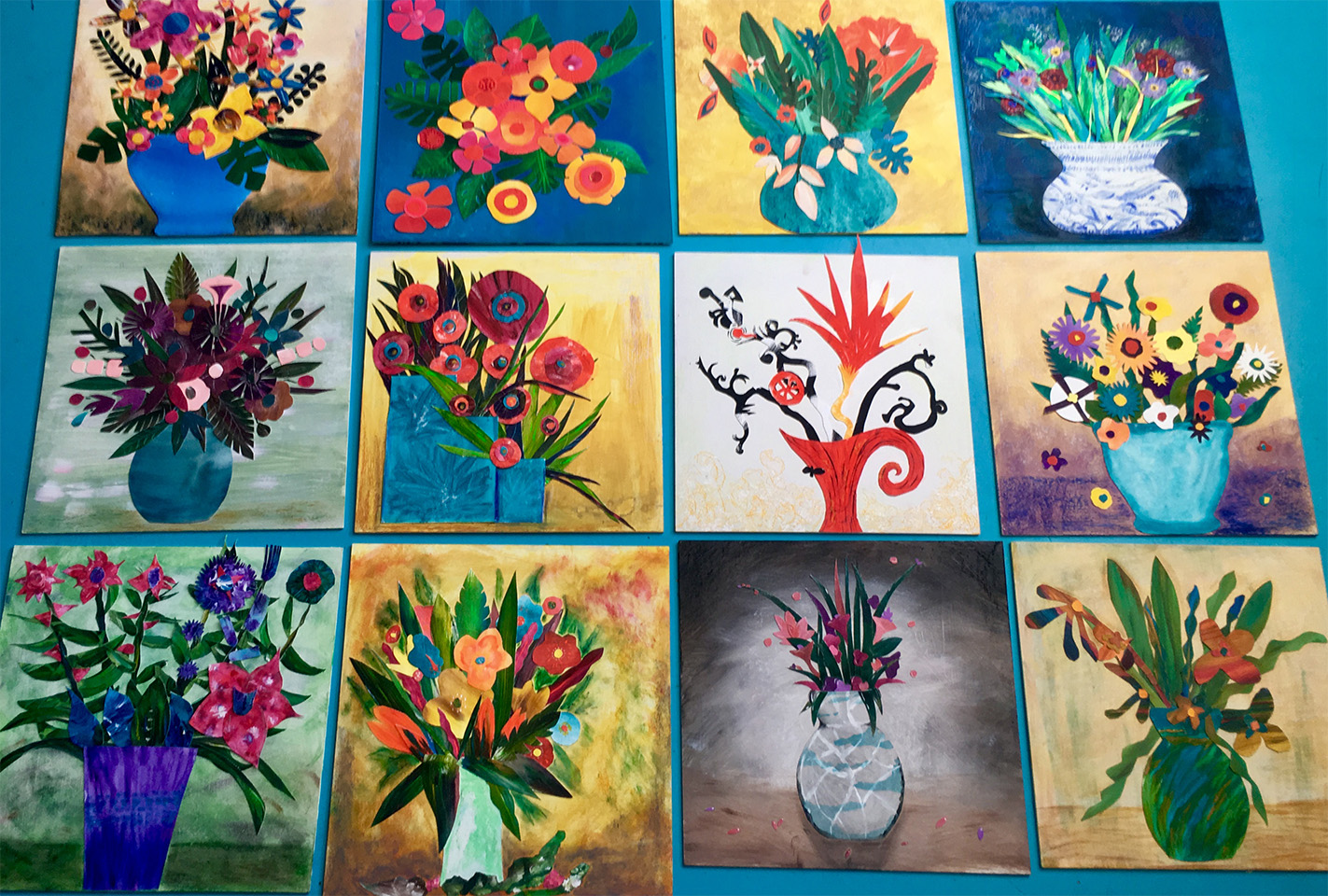 ---
Exploring Form, Colour and texture.
At the Incubator - Tauranga
9th March 10am - 3pm
$125
All materials included
This is a fun and experimental workshop where a variety of mediums and processes are taught and explored.
Emma will talk about aspects of her recent installation Colourfield at the Tauranga Art gallery and integrate some of the methods she worked with the cardboard into this workshop.
Colour and form are explored using acrylic paints, inks and oil pastel. Organic shapes are cut from the painted cardboard, echoing the shapes we find in nature such as rock pools, river beds, green spaces. Line, texture, negative and positive space are explored with the way each painted part is then assembled to create a layered relief work of art rich in colour and texture.
---
Dynamics of Colour
Available:
June 8th and 9th
Saturday and Sunday 10am - 3pm
Location:
The Incubator (Tauranga, NZ)

Cost $220.00 (All materials supplied)
Immerse yourself in a two day workshop exploring the dynamics of colour. Work with acrylic paint, guache and pastels to create richly coloured works that explore organic abstract forms. We will explore different colour combinations and create a small collection of finished works.
Please email Emma to register for these workshop's
---