Petite Posy Of kindness
Petite Posy of Kindness - Vida Flores Auckland
Saturday May 4th 1 - 3pm
This class is a great Mother's Day treat!! Bring your cherished Mum along to enjoy a very special and creative feel-good day.
Emma
Prill
has exhibited her gorgeous botanical collages, both nationally and internationally. Her largest work to date being her 2018-2019 installation 'Colourfield' which was an immersive large scale garden, made entirely from canvas and cardboard. This work took over the main atrium of Tauranga Art Gallery, giving a sense that you had just walked into a gigantic botanical wonderland.
Join artist
Emma
Prill
for an inspirational mixed media and colour-rich workshop, all for a wonderful cause. Emma joins Vida Flores to raise money for Sweet Louise, a charity set up to help those diagnosed with incurable breast cancer. Sweet Louise brings emotional support and practical services to its Members. It is a charity Vida Flores has worked with often over the years, and we are passionate about what they do. Sweet Louise provides its Members with uplifting experiences, practical assistance, treatment strategies, family support, and so much more, and this is all offered for free. We applaud Sweet Louise, and all the kindness it spreads.
In this workshop, you will paint your own pieces of canvas, before cutting them into forms using various botanical references. Arrange your colourful parts onto your hand painted board, to create your own unique petite posy collage. Complete your artwork by adding Emma's very own French gouache and oil pastels, giving detail and layering.
You will also contribute some of your floral forms to a larger-scale collage being put together by Emma for Sweet Louise. This artwork will be auctioned off at the Sweet Louise Belle Boutique fundraiser being held on October 24th. All proceeds from the artwork's auction will be going to Sweet Louise. A collage of kindness, if you will. We cant thank Emma Prill enough for giving her time to this gorgeous project.
Suitable for all - from complete beginners to those with experience.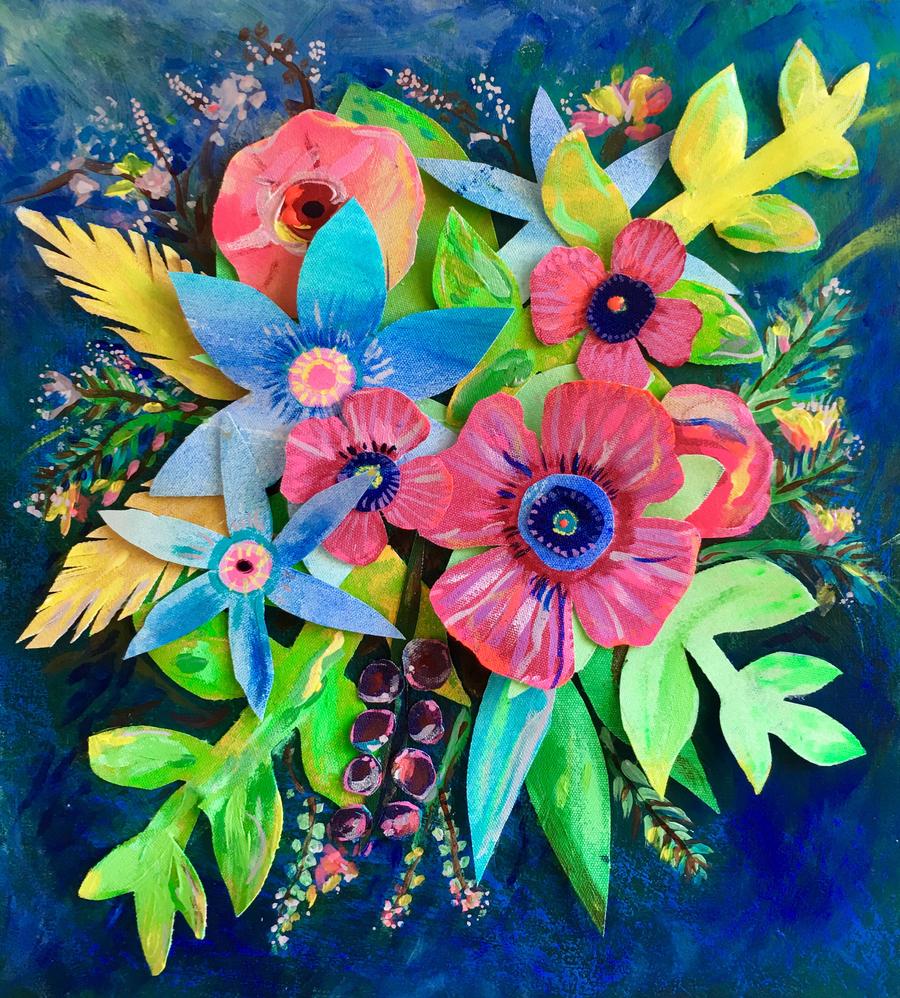 ---
Dynamics of Colour
Available:
June 8th and 9th
Saturday and Sunday 10am - 3pm
Location:
The Incubator (Tauranga, NZ)

Cost $220.00 (All materials supplied)
Immerse yourself in a two day workshop exploring the dynamics of colour. Work with acrylic paint, guache and pastels to create richly coloured works that explore organic abstract forms. We will explore different colour combinations and create a small collection of finished works.
Please email Emma to register for these workshop's
---